If you're a podcaster, it's critical that you give your audience top-notch quality in both content and audio quality. Nothing can distract a listener like the sound of unwanted breathing, smacking lips, and harsh "s" or "p" sounds, known as "plosives." Fortunately, it's easy to control those audible blemishes from your studio microphone with little more than a pop filter. Just snap, twist, or slide a pop filter onto your podcasting microphone stand, and you'll have noticeably better audio quality without any fancy audio mixing tricks.
It Might "Just Be" a Pop Filter…But, What Are Your Options?
In this article, we'll offer a full breakdown of one excellent filtering option — the Blue Yeti pop filter. These days, even amateur podcasters have access to powerful and affordable recording gear that can produce pro-sounding recordings out of Blue microphones and other microphones. And with the explosion of podcast popularity in recent years, listeners have become more refined, and quality standards have increased significantly. To grow your audience, it's important to keep the production quality high, and products like the Blue Yeti pop filter can help accomplish that on the cheap.
For this review, we dug deep on product specs for the following pop filters and compared three leading pop filters for podcasters. We consider product specs, pricing, ease of use, design quality, durability, and sound quality for each pop filter. We also chose one overall top pick from all the pop filters in this review. Every podcaster will have different needs in a pop filter, and each of these is solid options that can help you cut down on plosives and sibilance when recording.
Podcasts are a great way to share your expert knowledge and passion with the world. It's easy, however, to obscure your message with poor audio quality, and that's why a good pop shield is critical. Read on to learn more about the Blue Yeti pop shield and decide if it's the right choice for your podcasting mic.
What Is an MPF or Microphone Pop Filter?
Before we get into the specifics of a Blue Yeti pop filter, let's take a step back and look at pop screens in general. Pop filters are often commonly referred to as windscreens, and they serve as a barrier between a microphone and the speaker, performer, or whoever is doing the voiceover.
They serve several key functions, the first of which is to cut down on the sudden impact of breath and wind against the diaphragm on a condenser microphone. Knox pop filters are made specifically for Blue Yeti Microphones, as they lay flat and attach easily to the microphone stand. It is more difficult for other pop filters that attach by clamping to work with the Blue Yeti microphone. The Knox pop filter is on a flexible gooseneck holder, which makes adjusting it very easy.
Why Are They Necessary?
As a person speaks or sings into a mic, it's common for air to move quickly out of the mouth, especially when making popping sounds like "p" and "b." These popping noises, called plosives, can feel very harsh to a listener, especially when amplified by a powerful microphone. A device like the Blue Yeti Pop filter can cut down on the air that hits a mic and thus cut down on those plosives.
Another key function of the pop filter is to prevent saliva from contacting a microphone. Speakers and singers naturally spit from time to time, and a pop shield can help keep that spit from building up on a mic. This is not only more hygienic, but it's also better for the mic. The natural salts in human saliva can be corrosive to the diaphragm on a condenser mic, especially if they build up over time.
How They Work
To combat this, a pop shield is either placed in front of a mic or directly over the top of the mic like a sock. Front-addressed pop filters are most common for indoor recording situations like recording studios, while sock-style pop filters can be a good choice for outdoor recording and for use with omnidirectional mics.
Both can drastically improve audio quality when plosive or natural wind is an issue, but be aware that some sock-type pop filters could decrease the sensitivity of a large microphone. For that reason, we recommend sock-type pop filters for dynamic mics or condenser mics that are highly directional in outdoor use.
Product Specs of the Blue Yeti Microphone Pop Filter
There are many choices when considering a Blue Yeti pop filter, but for this article, we're featuring the Auphonix 6-inch pop filter. This is a reasonably priced, front-addressed pop filter that could be a great choice for podcasting. This filter features two layers of mesh secured within a strong plastic ring offering double the wind protection during your recording sessions.
The filter ring is connected to a flexible gooseneck attachment that can easily twist and move with your mic as you go. A simple twist clamp helps the Auphonix 6-inch pop filter cinch onto any standard size mic stand, including the base of the Blue Yeti. Auphonix backs this pop filter with a money-back guarantee, so there's little risk if you decide this is not the Blue Yeti pop filter of your dreams. This pop filter has a simple and classic design that has been proven in recording studios for generations.
Pricing
Prices can vary widely for a compatible Blue Yeti pop filter based on the type of filter, the brand, and differences in features like clamps and build materials. Pop filters are frequently packaged with mic stands and shock mounts, but when you purchase a pop filter alone, expect to pay between $10 and $50.
What We Reviewed
We picked a few similar filters available on the market to see how they compare.
Auphonix 6-Inch Pop Filter
Blue The Pop Universal Pop Filter
Professional Microphone Furry Windscreen
WindTech PopGard 2000
Auphonix 6-Inch Pop Filter
Ease of Use 3 Stars
This pop filter has a simple gooseneck design that holds the weight of the upper filter.
Durability 4 Stars
With a double filter layer, this pop filter will stand up to some abuse and also help protect your mics.
Design Quality 3 Stars
Auphonix hasn't reinvented the wheel with this design, but we think that's a good thing.
Sound Quality 5 Stars
This pop filter effectively eliminates pops and clicks as it should.
Blue The Pop Universal Pop Filter

If you're in the market for a Blue Yeti pop filter, then why not stick with Blue? They've become one of the leading brands for home and studio recording mics in the last decade, and for good reason. Their universal pop filter is a premium option for podcasters who want to know they can rely on their gear for years to come. This filter has steel mesh back and a wire-mesh housing to ensure that you'll get the maximum amount of audio pass through while still blocking all plosives. A strong and flexible gooseneck will attach to any mic, but it's a perfect choice as a Blue Yeti pop filter.
What truly sets this unit apart from other compatible Blue Yeti pop filters is the build quality. This is a hand-assembled unit with components that are soldered by hand. The sturdy wire-mesh structure makes the unit far stronger than those with an elastic mesh like the Auphonix unit. Sure, it's considerably more expensive than other pop filters out there, but this unit could last five times longer than some cheaper units on the market.
Ease of Use 4 Stars
The gooseneck and crank will easily attach to most mics.
Durability 5 Stars
This is a handmade unit that will outperform most others.
Design Quality 5 Stars
This pop filter is not only rock solid, but it also looks great.
Sound Quality 5 Stars
With a steel mesh screen, this pop filter will allow more sound to travel through than many elastic or foam windscreens.
Professional Microphone Furry Windscreen

This microphone windscreen is not only made specifically to work with the Blue Yeti, but it also looks like a cool mohawk. Unlike the Auphonix pop filter and the Blue universal option, this is a sock-type filter that will pull over the top of your mic. The fuzzy faux-fur look will protect your mic from loud plosive and spit-talkers as well as ambient wind. If you've got an omnidirectional mic or plan to record outside, then this could be a perfect option.
With this type of windscreen, you'll achieve better clarity in some recording situations and also cut down on needed accessories like mic stands. Another nice feature of this type of filter is that you really can break it. Unless it gets left behind on a location recording session, there are no moving parts, for screens to puncture, and no goosenecks to force into submission. It's possible that you could lose some audio fidelity while using a very sensitive large-diaphragm condenser mic, but for most podcasting situations, we think this will cover your bases without too much fuss. It's not only a functional solution but also far less expensive than some competitors.
Ease of Use 5 Stars
Simply pull this windscreen over your mic, and you're ready to go.
Durability 5 Stars
There's not much that can go wrong with this type of windscreen.
Design Quality 3 Stars
It looks cool and keeps things simple. Not much more to ask for.
Sound Quality 3 Stars
Any time you completely cover a mic, you'll lose some fidelity.
WindTech PopGard 2000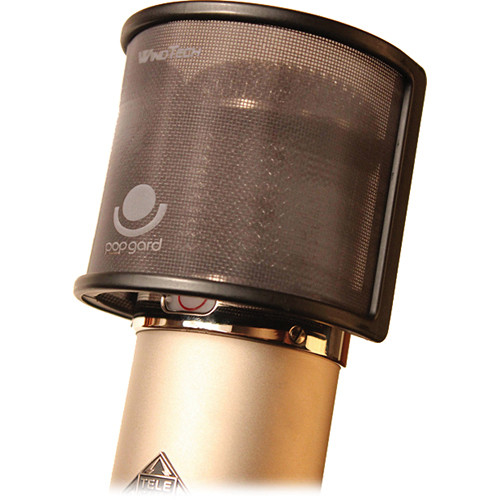 The WindTech PopGard 200 uses a similar approach to the Blue universal pop filter but adds a few nice convenience features. First and foremost, this pop filter requires no external mic stand and has no gooseneck attachment. Instead, it uses a clever rubber band design and affixes directly to the mic. While it works great as a Blue Yeti pop filter, it will also work brilliantly with most side-addressed condenser mics. You can even move it around on a mic if you find that it works best in a specific orientation.
The PopGard also uses hydrophobic elastic to ensure that both your mic and the screen stay fresh from mold and mildew. This unit doesn't have the same bombproof build quality that the Blue has, but it's still sturdy. In fact, this USA-made product is sold factory-direct from an independent company that prides itself on quality.
Weighing in at only around one ounce, this pop filter could be the perfect choice for a podcaster who wants a premium quality product but doesn't need the rigidity or weight of the Blue universal filter. It's also considerably less expensive than the Blue filter, and who doesn't love to save a buck or two?
Ease of Use 5 Stars
The rubber band design on this filter makes is super easy to use.
Durability 4 Stars
It's not quite as tough as the Blue filter, but it's still very high quality.
Design Quality 5 Stars
This is a super versatile pop filter that will work great on the Blue Yeti and also a wide range of other mics.
Sound Quality 4 Stars
This pop filter brings a nice balance to audio quality and durability.
The Verdict
Let's face it. A pop filter is not as exciting as a new condenser mic, desktop microphone, cool mixing software, Mac computer, or audio interface. It's also an easy piece of gear to forget if you're podcasting—almost an afterthought or final addition to some home studios.
It's an important piece of gear one way or another. There's not much that can ruin an audio recording more quickly than out-of-control plosive sounds. And while you may be able to edit those sounds out with some clever post-production, it's really easier to just use a pop filter and get it done right the first time. Trust us; it's not a corner worth cutting.
Our Top Pick
Our top pick is the Auphonix 6-Inch Pop Filter. This is a solid and versatile piece of gear that is both portable and powerful. It brings together the high-quality standards that you'd find on the Blue universal pop filter but with even greater mic compatibility. It's also super light and easy to use.
What's even better about this pop filter is that it falls right in the middle of our price range, not too expensive, while offering great quality and value to the podcaster or singer's home studio experience, helping you achieve the best possible sound quality from right in your own home.
Source URL : https://www.audioegghead.com/blue-yet-pop-filter/